High Performance Training
by Head Coach Carlos Casely
Personalized Instruction Intensive Training For Players Ages 7 and Up and UTR 2 to 15. Tournaments Every Week and Housing Available.
High Performance
Training Schedule
We have UTR Prize Money Open and Junior Tournaments
every weekend at our academy!
Monday thru Friday Training Program
Both morning and afternoon sessions include training in the Technical, Tactical, Physical, Técnica, and Psychological aspects of tennis.
Morning — 1.5 Hours

Physical Training
Morning
Stroke Technical Corrections
Balance
Footwork
Tactical Drills
Match Play
2.5 Hrs
Afternoon
Live Ball Drills
Match Play
Court Fitness
2.5 Hrs
Cost With Housing
1 month $3,000
2 weeks $1,800
1 week $1,000
Cost With No Housing
1 month $1,800
2 weeks $900
1 week $500
About Coach Casely
Get
Award Winning

Instruction

At Casely Tennis Academy we offer tennis instruction and summer camps for all ages and levels, providing the opportunity for all players to reach their potential.

Casely Tennis Academy was Founded and Directed by Carlos Casely, who brought his incredible vision to life with the creation of the Casely International Championships, the premier global platform for talented players to train, compete and grow.

Carlos Casely is an experienced Sports Psychologist and a renowned top tier Professional Coach with over 22 years of experience on the ITF Junior and Professional tours and a former NCAA Division I college Head Coach, currently the Head Tennis Coach for Men & Women's Tennis at Atlantis University in Miami, Florida.

The Casely International Championships is a month long circuit of consecutive 2-day tournaments attracts hundreds upon hundreds of players each year to a comprehensive competitive tennis experience, who seek to take their tennis level to new heights.

Our program has received numerous awards and recognitions from both national and international organizations, such as The United States Tennis Association (USTA), Florida Tennis Association, and the International Tennis Federation (ITF), having received the prestigious award for the best tennis program in the state of Florida.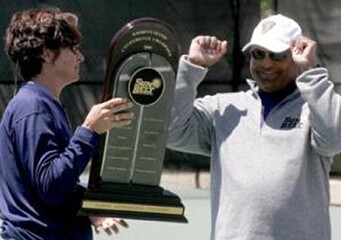 2005, 2006, 2007 Champions! Sunbelt Conference Division I College Tennis

FLORIDA INTERNATIONAL UNIVERSITY
For USA Programs:Call, Text, or Whatsapp +1 305 962-2633